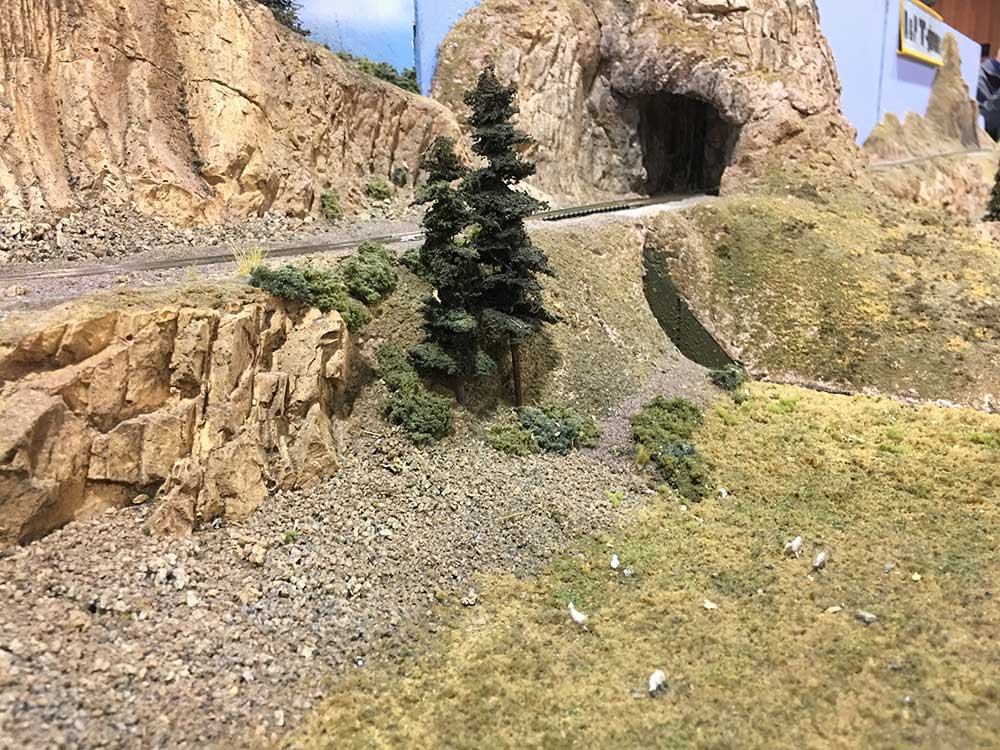 The Atlantic & Pacific N-gineers Model Railroading Club is devoted to increasing the knowledge, modeling talents, skills and pleasure of its members in N-scale model railroading.
The club layout is built to "N-Trak" modular standards, and consists of modules owned and built by individual club members. The modules measure from 2 to 3 feet deep by 4, 6 and 8 feet long and are fully portable. They are aligned and clamped together to form a railroad. The common trackage has two main lines and one branch line with inter-connecting crossovers at various points. The rear portion of the modules may contain and optional mountain division line and a choice of sidings, buildings, and scenery for completion.
Several times each year we display portions of the entire operating railroad at hobby shows, shopping malls, railfan meets and schools. While designed for large public display layouts, the modules can be used for home layouts or dioramas.
Single and multi-engine freight trains of 50 to 100+ cars and high speed passenger consists, both steam and diesel, are common sights along the main line. Several varied "roads" are operated, and you might see a "Pennsy" passenger train overtake and pass a Union Pacific "Big Boy" with coal drag in tow, or a modern diesel peddler dropping off its freight cars at town sidings.
Some of our members also build to the relatively new "T-Trak" modular standard, where modules measure from 8-14 inches deep and approximately 1, 2, 3 and 4 feet long. The T-Trak standard is an excellent entry into the hobby of model railroading. It is low cost and very portable.
How the A&P N-gineers Model Railroading Club can benefit you:
New Train Enthusiasts: Learn why that train set you bought a year or so ago does not run well anymore. Learn how to clean track, service your engine and cars.
Pulling Power: Learn how to tune and set-up your engines to pull 50-100 cars.
Tracks and Switches: Find out what track and switches are the most reliable and trouble free.
Scenery: Learn how to make those model mountains, streams, trees and roads look realistic.
Electronics and Wiring: Learn how to wire your railroad track, switches, control panels, DCC and much more.
Interested or curious about model railroading? Come and join us! We meet the third Tuesday of each month. Call or email for details.